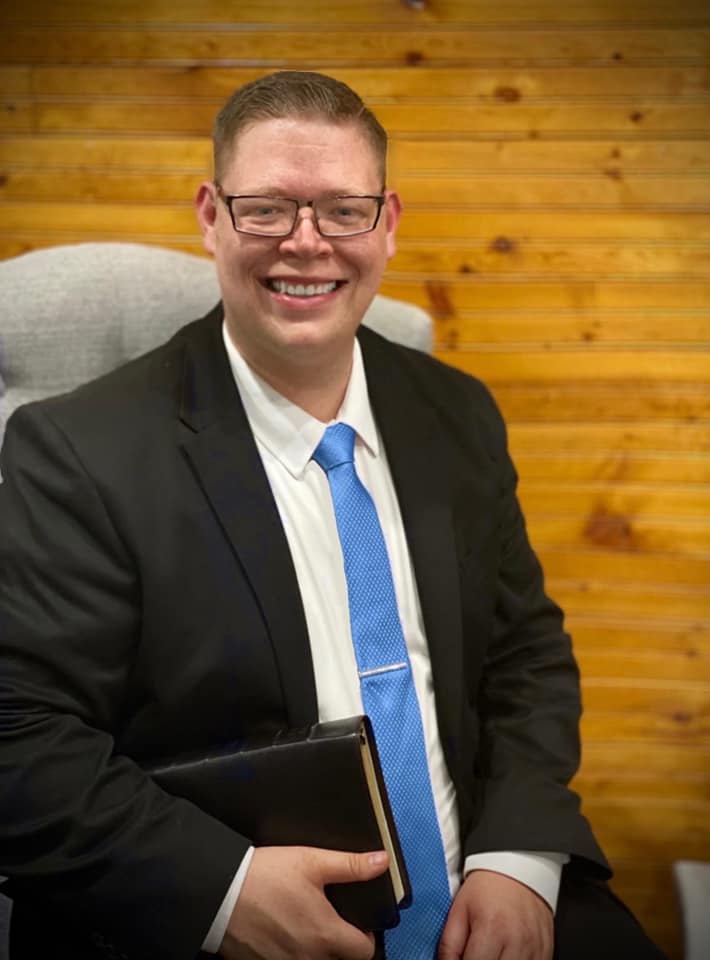 Pastor Eryn Stewart was born in Pontiac, Michigan. He grew up in a loving Christian home, and is one of 4 children. He grew up at Lakecrest Baptist Church, in Waterford, Michigan. He loved singing with his family, and had a strong passion at a young age to see souls saved, while working on various bus routes. On August 9th 2005, at a youth rally, pastor Stewart felt a very hard impression from the Lord swelling up into his heart as a true call to preach. He surrendered in that instant. A week later, August 15th 2005, he called on the Lord Jesus Christ to forgive his sins and to save him from hell!
God certainly works in powerful, wonderful and truly excellent ways!

Pastor Stewart's family were strong, faithful, and longstanding members of Emmanuel Baptist Church in Pontiac, Michigan; under the pastoral leadership of Dr. Tom Malone. Pastor Stewart and his family attended there until God moved them to the South, where they aided in helping a church start. After God moved them back, he then attended Lakecrest Baptist Church and graduated from Lakecrest Baptist School. And it was there that pastor Stewart truly began to fall in love with ministering for and to the Lord.
During pastor Stewart's college years at Mid-State Baptist College in Highland, Michigan of Highland Hills Baptist Church; under pastor Mario Chadinha; he was able to strengthen his calling through various courses and in depth, hands-on, training. He completed his pastoral internship at Open Door Baptist Church in New Bedford, Massachusetts. This is where his love for the east coast became a burning desire and steady prayer. As he fell more in love with the ministry, the Lord was working a different type of love into his life. In June 2013, Highland Hills Baptist Church held their annual Old Fashioned Tent Meeting. This is where he first met (his wife) Angela. Miss Angela had been visiting that week and drove there with friends from Rhode Island to attend the meeting! (Angela was raised in a very loving home. During her high school years, her father became ill and unexpectedly passed away. After his death, she was given his bible. A month later, on October 12, 2008, in a church service with her dad's bible, she asked Jesus Christ to forgive her sins, and save her from hell! Through her decision, just about every week following, she would bring someone else to church and the Lord would save them there! She was able to lead most of her family to The Lord because of His work in her life. She was happy, (and still is) to show God's plan of salvation to everyone she meets! What a testimony of God!
Over the next few months after they met, pastor Stewart got permission from his parents, pastor, and Angela's mother in regards to pursuing a courtship relationship with the intent of future marriage. After he received the 'green light,' he and Angela prayed, talked, fasted, and gladly accepted God's will of a chaperoned courtship! They decided to keep their pastors, and family closely involved in their long distance relationship. The Lord blessed their decisions of submission to God, and purity, and He allowed them to engage in February 2015. On July 4th, 2015 they became one in marriage! Pastor Stewart says that the love the Lord sparked in his heart for Angela is stronger than ever today!

While closely following the Lord's leading and guidance, pastor Stewart and his wife followed God's will and moved back to Rhode Island! (They had NO idea how important this step would end up being, as the Lord continued to bring them closer in location to His ultimate divine will!) After being faithful members of Historic Baptist Church in North Kingstown, RI; pastor Stewart prayerfully and biblically felt led to start a church in Rhode Island. However, after a few services, there became increased handfuls of great setbacks in every area- due to the Covid-19 pandemic. Pastor Stewart felt the Lord strongly closing the door. Although it was hard to witness, pastor Stewart and his wife trusted The Lord's plan. They fasted for the Lord to show a sure confirmation in this being His absolute will; a solidifying moment. The same day it closed, they walked into the property one last time, and saw that it was flooded ONLY in all the rooms they rented! The Lord had indeed closed this chapter, and provided pastor Stewart with very timely and remarkable scripture proof. God is a God of details!
During this time, they were prayerfully asking what the Lord would like of them. It was at this time that pastor Stewart received a phone call asking him to help fill the pulpit for the same church in New Bedford, Massachusetts, where he completed his internship! The pastor had recently resigned, and they were prayerfully seeking for the exact person the Lord needed. After prayerfully considering to help this church, pastor Stewart and his wife attended and helped out for a few services. At this time, the deacon asked pastor Stewart if he would be interested in candidating as senior pastor. Pastor Stewart and his wife fasted and prayed until God spoke. The Lord biblically told them both that this is exactly what He wants them to do. After candidating, the church voted 100% unanimous! Praise be to God, as He alone brought this miracle full circle!
Pastor Stewart and his dear wife had their very first Sunday service for the Lord on November 22nd, 2020 as the pastor of the Open Door Baptist Church, in New Bedford, Massachusetts! Together as a church family, they have seen God move, first hand! In just the first few months, they've seen over 40 souls saved, many baptized, returning families, handfuls of people rejoining the church, and most of all, God's grace!
Pastor Stewart and his wife are a young, happy, steady, and heartfelt team who have a special love for the flock and a genuine appreciation for the Word of God. They have a strong desire to lead others on the path of God, and truly bring light and encouragement to everyone they meet!
Pastor Stewart's Life Verse: Romans 1:16
Angela Stewart's Life Verse: Galatians 2:20